Wild Turkey Cutlet Cordon Bleu Blog Post - From Field to Plate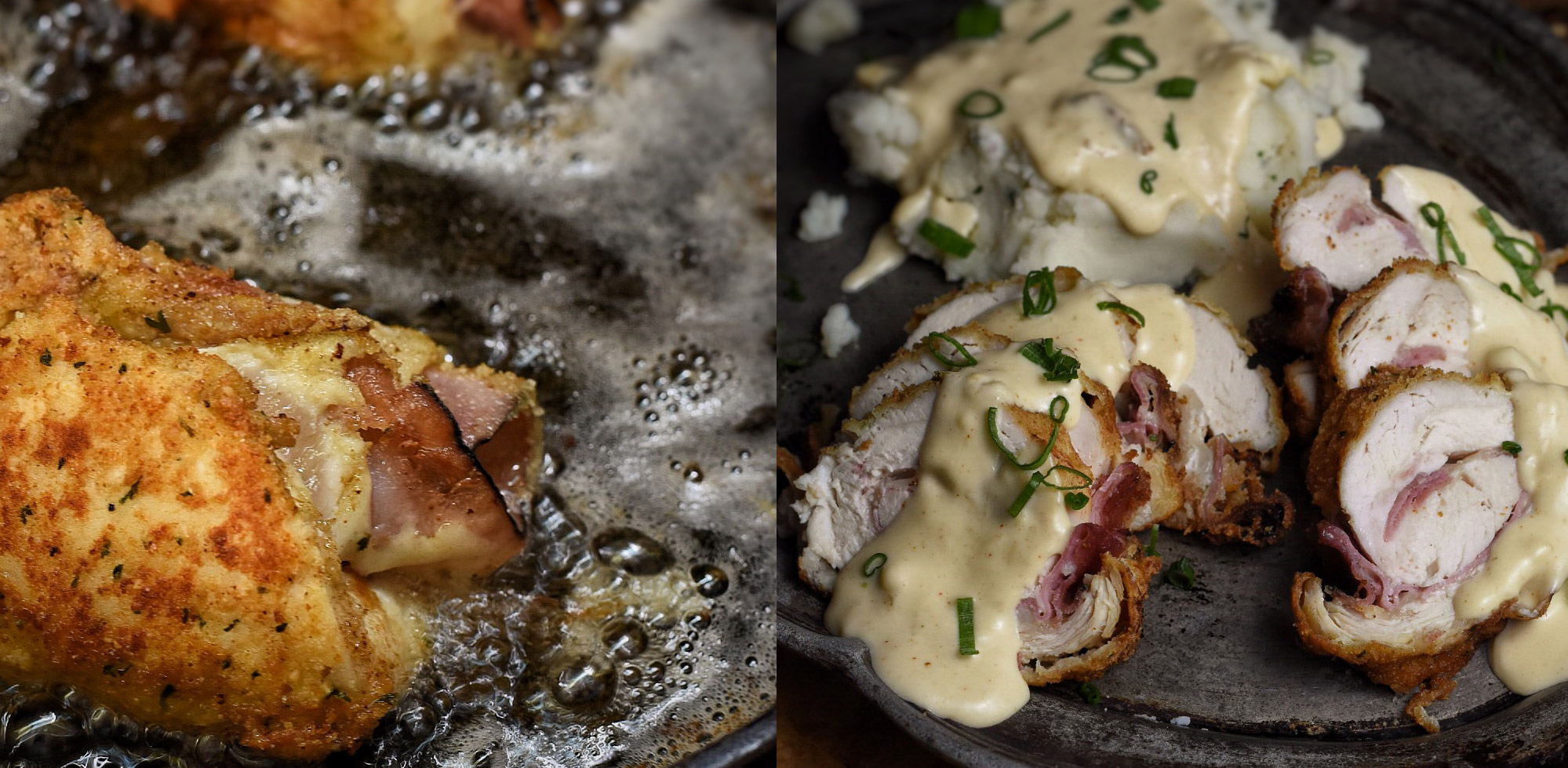 Wild Turkey Cutlet Cordon Bleu
Cutlet Ingredients
2-4 turkey cutlets
1 cup Italian bread crumbs
1/2 cup shredded parmesan cheese
1/2 cup flour
1 egg, beaten
Salt & pepper
1 tsp smoked paprika
1 tsp garlic powder
6 slices ham
6 slices Swiss cheese
Cutlet Directions
Preheat oven to 375 degrees.
Pound out cutlets, then season with salt and pepper.
Roll each piece with two slices of ham & Swiss. Place in fridge for 1 hour to allow the cutlets to set, this is key for them to stay together.
Mix bread crumbs, cheese, paprika and garlic powder, set aside along with a bowl of eggs and a bowl with flour.
Dredge each cutlet in flour, egg, bread crumbs and set aside.
Bake on a wire rack for 25-30 minutes. You can also fry the cutlets in 2 inches of oil, and finish off in the oven.
While the turkey is cooking, it's time to work on the sauce.
Sauce Ingredients
2 tbsp butter
1.5 tbsp flour
Garlic, minced and smashed
1 1/4 cups milk
1 tsp mustard powder or 2 tbsp dijon mustard
1/4 cup parmesan cheese
1 tsp paprika
Sauce Directions
In small sauce pan melt butter, add garlic and cook for 15 seconds. Whisk in flour until smooth and let cook 1-2 minutes, stirring so not to burn.
Add all remaining ingredients minus the cheese, bring to a boil, reduce heat and simmer or 5 minutes.
Remove from heat and fold in parmesan cheese until melted.
Fit & Finish
Remove cutlets from oven, allow to rest. Slice into 1 inch pinwheels.
Pour sauce over each piece and finish with some fresh chives.
<![endif]-->